Archives for : space:1999
Set after the tv-movie with Paul McGann as the Eight Doctor.
A Maltese fanfic/crossover/literary fiction/story…
This is the crossover fanfic in my fan-series which features a parallel universe Moonbase Alpha (Space:1999) as it would occur in Universe-777 (the Stargate & Doctor Who universe).
Story (C) 2007-2012 Mr SciRev
For the Dr Who Timeline Related to this Fanfic. It occurs soon after the final episodes of the 6th series of the new Dr Who
For the Stargate Timeline, it happens (some time) after Stargate Atlantis 4×3 but definitely before the Stargate Continuum movie.
SPOILER: none
What you need to know:
"The IOA (International Oversight Advisory) has set up a top secret base on the moon powered by a ZPM (Zero-Point Module) – an ancient power source. Stargate Command has commissioned special crafts called Eagles and a Stargate – a ring-like device created by the Ancients able to send people through a wormhole – but one without a protective iris. A separate section on the moon houses a super-hadron collider. "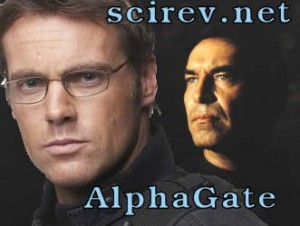 * * * * * * *
Earth-777
* * * * * * *
The IOA (International Oversight Advisory) commission had decided to set up a base on the moon. Of course, like the Stargate, this was a top secret space program. The public was to be kept unaware of these developments at least for the time being until the Stargate programme went public.
On one side of the moon there was already another small division, studying elementary physics using a super-hadron collider, one which would smash particles at speeds unheard of before. The hadron collider on earth at CERN, LHC, was like a child's toy, compared to this one. This collider was being used to discover dark matter which might be ejected between parallel universes too, in an attempt to provide alternate realities scientifically and perhaps help with inventing new power sources, since ZPM's were scarce. You couldn't call this a base really, it was hardly staffed. And again it was top-secret. So a moonbase on the dark side of the moon would help to man the division too.
That division was also responsible for detecting cosmic rays from the Big Bang, or Big Bounce, as theorists called it. Some cosmological theories believed there were other universes before ours came into being, and it was a 'Big Bounce' rather than a 'Big Bang'. The total number of personnel on the base and on the collider division amounted to 1999.
This is the next crossover fanfic in my WhoSliders v1 fan-series featuring Doctor Who (the Fifth Doctor – played by Peter Davison in the classic BBC tv series) and the Sliders.
Set after the tv-movie with Paul McGann as the Eight Doctor.
A fanfic/crossover/literary fiction/story…
The TARDIS time rotor made its familiar sound as it began materialising after some rough travel through the Vortex. It slided up and down in the time console flashing a familiar light pattern. "Interesting… The TARDIS is in some form of advanced structure, probably quite a large spacecraft, piggybacked to a large meteoric structure,"
The Doctor glared out towards the scanner screen which showed the outside. A wall laced with monitors and in-wall keypads was in sight.
"Clearly early 21st century earth technology but something is quite wrong. The temporal chronometer indicates the year is 2003 and the month is july.. again… It must be damaged. How could it get here, this place is many light years away from earth, a different galaxy altogether. Clearly this craft must have passed through an anomaly."
The Doctor ran an analysis of the surrounding materials to see what sort of craft the TARDIS had materialised in, 'what's this moonrock?' Can it be the Moonbase again, he wondered. But that was not around in 2003. Perhaps some alien race had a base on the moon in 2003, that would explain the existence of this technology. Still it was clearly of earth origin. Earth definitely did not have a moonbase in 2003, the Doctor thought.